Court remands Greenpeace activists over piracy claims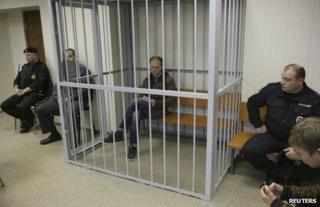 A Russian court has remanded 20 activists from a Greenpeace ship in custody for two months for allegedly trying to seize an oil platform.
Eight others were remanded until Sunday while the fate of two remaining activists was still being decided late into Thursday night.
The activists - who hail from 18 countries, including the UK - are being held pending a "piracy" inquiry.
Greenpeace says the activists were staging a legal, peaceful protest.
Coastguards arrested them on suspicion of piracy after two scaled an offshore drilling platform.
President Vladimir Putin said that the activists from 18 countries were clearly "not pirates" but had broken international law.
The charge of piracy carries a prison term of up to 15 years in Russia.
Vladimir Markin, spokesman for Russia's Investigative Committee - its equivalent of the FBI - said there was a possibility that the remand orders would be lifted early as investigators clarify what roles those detained played in the protest.
Rainbow Warrior veteran
Under Russian law the prosecution can ask a judge to detain people pending further investigation.
Denis Sinyakov, a Russian freelance photographer, and Greenpeace spokesman Roman Dolgov were the first to be remanded.
Photos showed Mr Sinyakov, whose photographs of the arrest have been used by Reuters among others, inside a metal cage, still wearing handcuffs, in a room of Murmansk's Lenin district court.
A total of six detained activists are British, four are Russian, two each come from Argentina, Canada, the Netherlands and New Zealand.
The captain, Peter Willcox, is an American and other detainees come from Australia, Italy, Brazil, Finland, Denmark, Switzerland, Ukraine, Turkey, Sweden, Poland and France, said Greenpeace on a page of live updates.
The court's decisions were met with dismay among journalists and photographers in Russia. Several journalists reportedly picketed the Moscow headquarters of the Investigative Committee.
The 30 activists were being heard in groups, in six different rooms of the courthouse.
Dmitry Artamonov, a Greenpeace co-ordinator, told the Associated Press that the charges were "absurd". "There can be no other decision except for the release of all the people, including the crew members and all passengers," he said.
But Gazprom spokesman Sergei Kupriyanov reportedly told the Moscow Echo on Thursday that Greenpeace had acted in "an absolutely illegal way".
Greenpeace says that all of the activists have now been questioned in the presence of lawyers.
Sue Turner, mother of UK detainee Iain Rogers, told BBC News on Thursday she had not heard from her son since Monday.
"[Iain] was doing a job and he didn't cause any damage. It's a very, very worrying time."
Skirmish
The drama began a week ago, when two activists successfully climbed on to the side of a platform operated by Gazprom, Russia's state gas monopoly.
They were detained after a short skirmish in inflatable dinghies in which armed Russian FSB officers in balaclavas fired warning shots into the water.
The ship, the Arctic Sunrise, with all its crew was then towed to Murmansk.
Russia views its huge fossil fuel deposits under the Arctic as vital to its economic future, which is why it takes any threat to their exploitation very seriously, the BBC's Daniel Sandford reports from Moscow.