Guinness: Irish 'Arthur's Day' condemned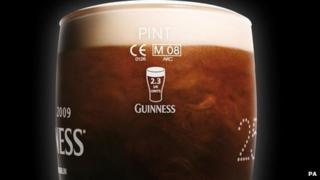 An attempt to establish an Irish day devoted to Guinness risks becoming a major PR hangover for the drinks giant Diageo, before even a drop is drunk.
Critics, including musicians and doctors, have accused "Arthur's Day" this Thursday of promoting drunkenness.
A snap poll for a leading radio show revealed 74% of listeners opposed to the day, named after Arthur Guinness.
The event was conceived in 2009 to mark 250 years since the first pint of Guinness was brewed in Dublin.
Since then the event has grown, and this year's event will feature 1,000 paid musicians and singers popping up in pubs across Ireland.
There will also be promotional events in 55 countries, and the event has been pushed by Tourism Ireland, aware that the stout known as "the black stuff" is one of Ireland's most famous exports.
Advertised as a cultural initiative, the day will be headlined by international commercial performers including Tom Jones and the Manic Street Preachers.
'Alcoholiday'
But one of Ireland's most famous home-grown singer-songwriters, Christy Moore, has led a counter-offensive.
In a scathing song - to be released on Thursday - he has dubbed it an "alcoholiday".
Moore, who has played to sell-out venues in Ireland for over four decades, stopped drinking alcohol over 20 years ago.
"Diageo Diageo have mounted a Crusade/ Creating Arthur's Day they've suckered us into their charade/ Start 'em off on Alco-Pops tastes just like lemonade/ Get 'em into the hit while they're young and none the wiser," sings Moore in the song "Arthur's Day".
Another song, by Andrew Basquille, despairs that the Guinness Brewery is Ireland's most popular tourist destination - ahead of the Book of Kells and historic sites.
The Royal College of Physicians of Ireland says the event promotes drinking in a country where alcoholic liver disease and related deaths have almost doubled since 1995 because of alcohol abuse.
A spokeswoman for Diageo - which says it encourages sensible drinking - admitted the company was taken by surprise by the reaction to the event this year, and that the success of the event - and its future existence - would be reviewed.
"Nothing is ever concrete. We'll be looking at it afterwards," she said.
Diageo was formed by the merger of the drinks companies Guinness and Grand Metropolitan in 1997.