Golden Dawn: Greek police officer held in raid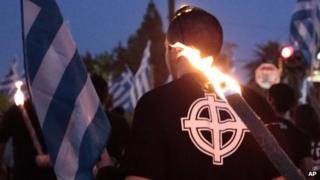 Greek police have arrested a colleague who has reportedly been working as a bodyguard for the far-right Golden Dawn party, during a raid on its offices.
The police officer has been suspended since last year, apparently because he was suspected of joining Golden Dawn attacks on immigrant market stalls.
There is intense scrutiny of perceived links between the party and police.
The party is also under pressure after the killing of a left-wing activist, apparently by a Golden Dawn supporter.
After the fatal stabbing of Pavlos Fyssas, 34, last week, Prime Minister Antonis Samaras vowed not to let Golden Dawn "undermine" democracy, while his deputy said it must now be treated as a "criminal organisation".
Two senior police officials have resigned in the wake of that incident.
Police have also recently been criticised for not investigating Golden Dawn over violent incidents and the keeping of weapons.
Weapons
In a raid on Golden Dawn offices in the western town of Agrinio on Tuesday, authorities said a 45-year-old suspended police officer, said to have been acting as a bodyguard for a party MP, was arrested, while wooden bats and shotgun cartridges were found.
There have long been claims of widespread support among police for the party, including figures claiming to show that in some areas one in two police officers voted for them in last year's election, the BBC's Mark Lowen in Athens reports.
Also on Tuesday, a court in the northern city of Thessaloniki convicted four men identified as Golden Dawn members for public disturbance offences and possession of illegal weapons, including knives, pepper spray and collapsible metal batons.
Golden Dawn officially denies being a neo-Nazi movement, though its badge resembles a swastika, some senior members have praised Adolf Hitler, and its members wear black T-shirts and combat trousers at anti-immigrant demonstrations.
The party came from nowhere to win nearly 7% of the vote in 2012 general elections and took seats in parliament. Since then its support is believed to have risen further.