Greenpeace activists broke law, says Putin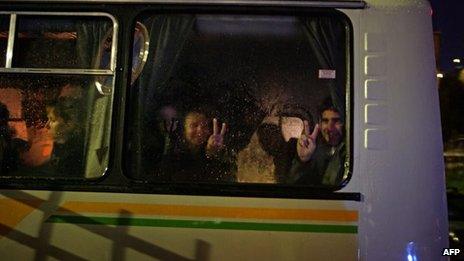 Russian President Vladimir Putin says Greenpeace activists broke the law during an Arctic oil protest, but that they are not pirates.
Coastguards have taken the 30 Greenpeace activists off their ship and detained them in the port of Murmansk.
Russia prosecutors have accused them of piracy, a charge that carries a prison term of up to 15 years in Russia.
Greenpeace says the campaigners were staging a peaceful protest, and denies they broke the law.
Mr Putin, speaking at a forum on the Arctic, said: "It is absolutely evident that they are, of course, not pirates."
But he added: "But formally they were trying to seize this platform... It is evident that those people violated international law."
A spokesman for Russia's main investigating agency, the Investigative Committee, said the charges might be changed if new evidence emerges.
The spokesman, Vladimir Markin, had earlier described the protest as "an attempt to seize a drilling platform by storm".
"It's hard to believe that the so-called activists did not know that the platform is an installation with a high hazard level, and any unauthorised actions on it can lead to an accident," he said.
Ivan Blokov of Greenpeace called the accusations "a fantasy".
"We don't see any article in Russian criminal code which can be applied to the case," he said.
The activists were towed in their ship, the Arctic Sunrise, for four days before reaching Murmansk.
On Wednesday morning, Greenpeace Russia tweeted that the activists had been detained for 48 hours and had been transferred to "different prisons in Murmansk and around".
The activists were initially taken to the Murmansk headquarters of the Investigative Committee.
Russia views its huge fossil fuel deposits under the Arctic as vital to its economic future, which is why it takes any threat to their exploitation very seriously, the BBC's Daniel Sandford reports from Moscow.
The campaigners on the ship are from 18 countries, including Australia, Brazil, Canada, Denmark, France, New Zealand, Russia, the UK and the US, Greenpeace said.
Six Britons are among those detained.
Some of their relatives told the BBC on Tuesday that they had spoken to them and they were all being well treated.
The campaigners were seized on 19 September along with their ship after two Greenpeace activists tried to climb onto a Gazprom offshore platform.
The ship was raided by armed Russian men in balaclavas who abseiled down from helicopters. It was seized in the Pechora Sea, near the rig.
Greenpeace has said that its protest against "dangerous Arctic oil drilling" was peaceful and in line with its "strong principles".
Greenpeace Russia's Vladimir Chuprov, denied on Wednesday that the Arctic Sunrise had violated a three-mile security zone around the oil platform.
Depending on the gravity of the offence, a piracy conviction in Russia can carry a fine of up to 500,000 roubles (£10,000; $15,000) as well as a jail term.
Related Internet Links
The BBC is not responsible for the content of external sites.