German Green leaders quit after big election setback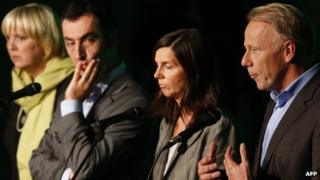 Three leaders of Germany's Green Party have announced their resignations after the party came fourth in the election won by the ruling conservatives.
The Greens' leading spokesman, Juergen Trittin, said he was stepping down and would not seek a leadership post again.
Claudia Roth and another leader, Renate Kuenast, have also resigned. The Greens will elect a new top team next month.
A senior ally of Chancellor Angela Merkel has rejected holding any coalition talks with the Greens.
Christian Social Union (CSU) leader Horst Seehofer said the centre-left Social Democrats (SPD) would be potential coalition partners, not the Greens, who got 8.4%.
The CSU is the Bavarian sister party of Mrs Merkel's Christian Democrats (CDU) and together the conservative alliance won Sunday's election by a wide margin, with 41.5%. The SPD came second, with 25.7%.
Some CDU politicians say they are open to coalition talks with the Greens, though the SPD is widely seen as the most likely partner of the CDU/CSU in a "grand" coalition.
Weeks of tough coalition talks are expected. Many SPD politicians are wary about acting as junior partner to the CDU/CSU in government, because they did so in 2005-2009 and suffered a big slump in electoral support in 2009.
Mr Trittin is joint leader of the Greens' parliamentary group, with Katrin Goering-Eckardt.
German media report that the Greens' transport spokesman Anton Hofreiter is tipped to succeed Mr Trittin.