Pussy Riot's Nadezhda Tolokonnikova moved to isolation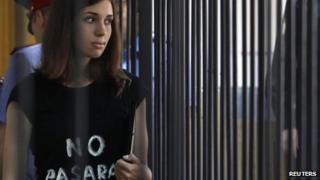 A jailed member of the punk band Pussy Riot has been moved to an isolation cell for her own safety, prison authorities in Russia say.
Nadezhda Tolokonnikova on Monday announced she had started a hunger strike to protest against the conditions in her penal colony.
But the prison service denied her solitary confinement was a punishment.
Tolokonnikova and another band member were jailed after performing a crude song in a Moscow cathedral.
Their act was regarded as blasphemous by many Russians, but their prosecution caused an international outcry.
In a letter released to media this week, Tolokonnikova said she had complained that she faced threats from other inmates, and also about long hours of forced labour.
She said female inmates at penal labour colony No 14 in Mordovia were treated like "slaves", working 17 hours a day sewing police uniforms.
If they failed meet their quotas they were punished by being denied food, prevented from using the bathroom or made to stand outside in the cold, she wrote.
She said her call for improvements had not been met and so she was "declaring a hunger strike and refusing to take part in the slave labour in the colony until the administration starts obeying the law and stops treating incarcerated women like cattle."
The prison service denied her account and said women worked no more than eight hours a day.
A spokesman said on Tuesday that: "Nadezhda Tolokonnikova has been placed in a so-called safe place in the colony. It is not a punishment cell."
According to Tolokonnikova's lawyer, Irina Khrunova, her client had confirmed "that she was put in a safe place. She didn't tell me anything about a punishment cell".