Press: Win highlights Merkel dominance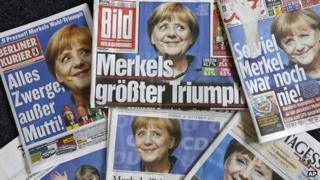 Germany's press is united in seeing Angela Merkel's emphatic election win as confirmation of her unchallenged political dominance.
Amid widespread respect for the scale of her personal achievement, many commentators believe it was a victory for personality over political conviction.
There are also jitters about Mrs Merkel's loss of her liberal coalition partner and the uncertainty surrounding the new coalition.
'Era of Merkelism'
"Merkel's greatest triumph," is the big front-page headline in Germany's most-read paper, the centre-right tabloid Bild.
A commentary by Nikolaus Blome says the chancellor's "phenomenal" victory was not decided by issues such as taxes, justice or the euro, but by a simple question: "Who do Germans trust to show calm reason and strong nerves in the chancellor's office?"
However, he voices concern that the failure of Mrs Merkel's coalition partners, the liberal Free Democrats, has weakened the centre-right camp, and that the most likely new coalition - with the second-placed Social Democrats - could leave Germany practically without a parliamentary opposition.
Under the simple headline "Merkel: Victory", Berthold Kohler writes in the centre-right Frankfurter Allgemeine Zeitung that Mrs Merkel's Christian Democrats did not "bet on a political programme, but on a person: the chancellor".
In another commentary, Jasper von Altenbockum compares Mrs Merkel to "Gulliver surrounded by the Lilliputians". He says that the sheer scale of her victory has left the Christian Democrats "great, but lonely", and that despite their weakness, the Social Democrats will now be able to demand a high price for agreeing to a coalition.
In the centre-left Sueddeutsche Zeitung, commentator Heribert Prantl speaks of a new "Merkel era", and attributes her success to the fact that Germans appreciate her unspectacular style, her handling of the euro crisis and her flexible, non-combative brand of conservatism.
"It is the era of Merkelism - a politics of power whose power is barely noticeable. Germany's citizens have not just handed the chancellor a victory, they have handed her a triumph," he writes.
But he warns that the extent of Mrs Merkel's dominance could undermine her own party, arguing that the Christian Democrats now resemble "Merkel plus nothing".
'Merkel mania'
But in centre-right Die Welt, Thomas Schmid says it is a victory "without clarity or direction" and that it is now time for Mrs Merkel to "come out of hiding".
"Germans like her because she gets on with her work unobtrusively and apparently without any narcissism, neither irritating nor bothering the voters. But will this be enough?" he asks, adding that the chancellor should use what is seen as likely to be her last term to seek reform, both in Europe and at home.
Elsewhere in the paper, Ulf Poschardt voices alarm at the Free Democrats' defeat, saying Germany "urgently" needs a liberal political perspective. "Organised political liberalism has always had a hard time in Germany. Now it is on its death bed again. Not a pretty sight".
The left-leaning Tageszeitung, on the other hand, sees the pro-business liberals' defeat as a silver lining in an election that it finds disappointing in light of "Merkel mania", and the failure of the Social Democrats and Greens to win a majority.
It says that with Germany's main economic liberal voice out of the way the primary obstacle to ecological reform, higher taxes for the rich, a minimum wage and a turn towards renewable energy is gone.
'Omnipotent'
Elsewhere in the Europe, there is similar respect for Mrs Merkel's victory, but also hints of the resentment many feel at the German chancellor's insistence on tough austerity measures as a way out of the continent's debt crisis.
In heavily indebted Greece, an editorial in centrist To Vima reads: "Germans have said a big 'Yes' to their country's domination of Europe, which arrives over the ruins of the South of the 'united' Old Continent".
Writing in centrist Ta Nea, commentator George Pappas describes Mrs Merkel as "omnipotent".
"Never since World War II has there been so powerful a German chancellor in a Europe where Germany's role has never been as dominant as it is today."
In Spain, the front page of the liberal centre-right El Mundo - perhaps controversially - sports the headline "Merkel, Merkel ueber alles".
Centre-left El Pais's Berlin correspondent says Mrs Merkel's victory is a "triumph of pragmatism", and that she "embodies to perfection the leadership that Germans want: few risks and ideological flexibility".
'Europe is now Germany'
An editorial in regional daily Diario de Cadiz, however, says Mrs Merkel's re-election may be a double-edged sword for Prime Minister Mariano Rajoy, as he fights to come to grips with Spain's crushing public debt.
"The chancellor has expressed support for Prime Minister Rajoy's reforms but one shouldn't forget that Angie fiercely believes that each country has the responsibility to repay its own debt," the paper says.
In France's centre-left Le Monde, Berlin correspondent Frederic Lemaitre homes in on Mrs Merkel's nickname "Mutti" ("Mummy") among Germans.
"Like a mother indeed, Angela Merkel protects and reassures her countrymen. Makes them proud too," he writes, in part because "for the rest of the world, Europe is now Germany, and its phone is Angela Merkel's".
In the centre-right Figaro, Phillipe Gelie says European leaders will no doubt be studying the lessons of Mrs Merkel's success, as she is a rare example of a leader "who unites her fellow citizens around her politics".
Bernardo Valli, in Italy's La Repubblica says Germans have rewarded Mrs Merkel for her "victory" in the eurozone crisis, comparing it to "the triumph accorded a general returning from a battlefield on which he has shown ability and valour".
Massimo Nava, in Corriere Della Sera, says it is a "victory of a Germany aware of its own strength" and that indicates debt-laden European states should not "cultivate many illusions about generous departures from the dogma of financial rigour".
BBC Monitoring reports and analyses news from TV, radio, web and print media around the world. For more reports from BBC Monitoring, click here. You can follow BBC Monitoring on Twitter and Facebook.