Plumber finds 140,000 euros under bath at ex-IRA man's repossessed home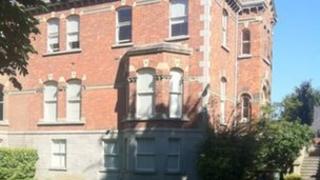 A plumber has found 140,000 euros (£118,000) under a bath inside a house that was repossessed from a former IRA hunger striker, it has been reported.
The plumber was working in the house in Ballsbridge, south Dublin, when he made the discovery on Friday, according to the Irish Independent newspaper.
The property was the former family home of ex-IRA prisoner Tom McFeely, who later became a property developer.
The house was repossessed last August, a month after he was declared bankrupt.
The McFeely family was ordered to move out of the Ailesbury Road property by Dublin High Court, because of a default on a 9.5m euros (£7.5m) mortgage.
Renovation work
The mortgage was then taken over the by the National Assets Management Agency (Nama), the "bad bank" set up by the Irish government to purge problem loans from bailed out banks.
The house was recently sold to a new owner, who is understood to have hired the plumber to carry out renovation work in the bathroom.
The Irish Independent reported that the plumber found the the cash in 50 euro notes and reported the matter to Nama, which in turn called the police.
Neither the police nor Nama would make any comment on the seizure when contacted by the BBC.
Mr McFeely, who is originally from Dungiven in County Londonderry, joined the Provisional IRA during the Troubles and was later convicted of shooting an Royal Ulster Constabulary officer.
He served a lengthy sentence for attempted murder of police, possession of weapons and a post office robbery.
He spent 53 days on hunger strike in the Maze prison in County Antrim in 1980, during the IRA campaign for political prisoner status.
Multi-millionaire
When he was released in 1989, he left the republican movement and moved to Dublin where he began work in the building trade.
He became a multi-millionaire property developer during the Celtic Tiger housing boom, moving into the large Ballsbridge property in the expensive Dublin 4 district.
However, his business was ruined following a fire safety controversy over an apartment block that his company built in the north Dublin suburb of Donaghmede.
His firm, Coalport Developments, faced High Court action over allegations that the Priory Hall building breached fire safety regulations.
In October 2011, more than 240 residents were moved in emergency hotel accommodation by order of the court, due to fears that the safety regulation breaches were so serious, a fire could spread through the whole building in minutes.
Two years on, the Priory Hall dispute has not yet been settled.