Police building in Ankara, Turkey hit by rockets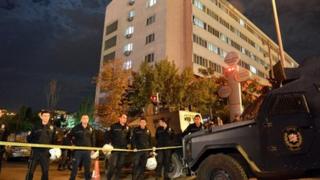 A police compound in the Turkish capital, Ankara, was struck by rockets on Friday, Interior Minister Muammer Guler has said.
Mr Guler said that two rockets hit the directorate in the Dikmen suburb and that another device, which did not explode, was found in a nearby garden.
He said no-one was hurt in the attacks. It is not clear who is responsible.
Kurdish rebels, left-wing groups and Islamist militants have previously bombed targets in Turkey.
Some media reports blamed the Revolutionary People's Liberation Party-Front (DHKP-C), a far-left armed group.
The Ankara-based Anadolu news agency quoted Mr Guler as saying that "a rocket launcher, an unexploded shell and the so-called flag of an illegal leftist organisation" were found at the scene.
He said that the perpetrators "may have fled in a vehicle".
In February the DHKP-C was accused launching a suicide bomb attack on the US embassy in the Turkish capital Ankara in which a guard was killed.