Leicester fire deaths: Ryanair to refund grieving father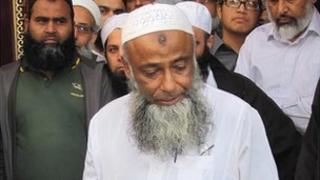 Ryanair has said it will refund a grieving father who had just lost his whole family in a fire after it charged him extra to change his flight.
Dr Muhammad Taufiq Al Sattar's wife and three children were killed in a house fire in Leicester last Friday.
He was to fly home to Leicester from Dublin as usual that day but changed to an earlier flight after he was told his family members were probably dead.
Despite explaining to check-in staff, they charged him 188 euros (£160).
The Dublin-based neurosurgeon regularly flew home to his family in Leicester at weekends and had booked a return flight to East Midlands on Friday evening.
However, after police phoned him during the earlier hours of the morning to say no member of his family had escaped the fire, he tried to get to the UK as quickly as possible.
He told the Irish Daily Mail that tears were streaming down his face as he tried to explain to staff at Dublin airport why he needed to change to an earlier flight to Birmingham.
But the surgeon said he was told by check-in staff that he would have to pay to change his booking.
He told the newspaper: "I don't want to make a big deal about it but it did shock me. I really did not expect them to charge me.
"I thought, given the circumstances, they might just let me transfer flights, as I had already paid for a return fare."
In a statement, the airline said: "Ryanair offers its sincere condolences to Dr Sattar and confirmed that in the circumstances it will provide a full refund of any monies paid last Friday."
The neurosurgeon's wife Shehnila Taufiq, 47, their sons Jamal, 15, and Bilal, 17, and daughter Zainab, 19, died in the fire in Wood Hill, Leicester, last week.
Earlier on Friday, Kemo Porter, 18, of Browning Street, Leicester, appeared before Leicester Magistrates' Court charged with the murder of all four victims.