Putin may stand for fourth term as president of Russia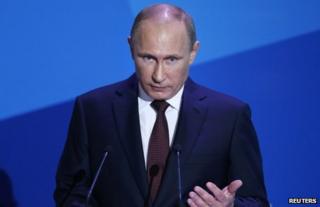 Russian President Vladimir Putin has suggested that he may stand for a fourth term in office in 2018.
"I don't rule it out," he said during a debate with former French Prime Minister Francois Fillon in the Russian holiday region of Valdai.
Since taking power in 2000, Mr Putin, 60, has won three elections but had to stand aside for four years in 2008.
Recent years have seen the biggest protests since Soviet times against Mr Putin and his allies.
Political opponents accuse him of failing to tackle corruption and undermining democracy.
In 2008, he was obliged by the constitution to stand aside, having served two consecutive terms.
With his protege Dmitry Medvedev elected in his place, he served as prime minister instead but, in the opinion of many, he remained firmly in control of Russia.
His re-election last year was marked by street protests, followed by a crackdown on opposition figures and non-governmental organisations.