John McCain takes aim at Putin in Russian press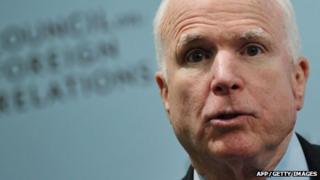 US Senator John McCain has written an attack on Russia's president, accusing Vladimir Putin of backing tyrants and fostering corruption and repression.
Mr McCain's article on Russia's Pravda website was a response to a piece by Mr Putin in the New York Times.
In his article, Mr Putin warned that US military strikes on Syria would claim innocent victims and escalate conflict.
Mr McCain, who lost to Barack Obama in the 2008 US presidential vote, said Mr Putin was harming Russia's reputation.
The Republican senator for Arizona used his opinion piece to criticise Mr Putin's government for censorship and oppression.
In the piece, headlined "Russians deserve better than Putin", he accused the Kremlin of punishing dissent, rigging elections, censoring the media and banishing political opponents.
"To perpetuate their power they foster rampant corruption in your courts and your economy and terrorise and even assassinate journalists who try to expose their corruption," he wrote.
Mr McCain said the Russian president was undermining his country's reputation through support for Syria's government in the face of the West's outrage over its alleged use of chemical weapons.
"How has he strengthened Russia's international stature? By allying Russia with some of the world's most offensive and threatening tyrannies.
"By supporting a Syrian regime that is murdering tens of thousands of its own people to remain in power and by blocking the United Nations from even condemning its atrocities.
"By refusing to consider the massacre of innocents, the plight of millions of refugees, the growing prospect of a conflagration that engulfs other countries in its flames an appropriate subject for the world's attention.
"He is not enhancing Russia's global reputation. He is destroying it. He has made her a friend to tyrants and an enemy to the oppressed, and untrusted by nations that seek to build a safer, more peaceful and prosperous world."
'Friend to tyrants'
Mr McCain's article is seen as a direct response to an opinion piece by Mr Putin published on 11 September in the New York Times.
In it, the Russian president lambasted the United States for its support for military strikes on Syria and accused it of failing to understand the complexities of the country's conflict.
A US strike would "result in more innocent victims and escalation, potentially spreading the conflict far beyond Syria's borders", he wrote.
While Mr Putin's article appeared in one of the United States's most respected newspapers, the BBC's Steven Rosenberg in Moscow reports that Russians will not be able to pick up a copy of Mr McCain's piece at their newsstands.
Pravda.ru, the article's publisher, is only a distant cousin of the newspaper that reached millions as the Communist Party's mouthpiece during the Soviet era and is viewed as a relatively obscure Russian media outlet.
'Cool dude'
Russia's Communist party still produces its own separate Pravda periodical but the publication has a limited distribution.
Mr McCain's remarks and his choice of publication generated a reaction from Russian social media users.
Opposition activist Ilya Yashin tweeted: "McCain evidently doesn't realize that Pravda.ru is not the Pravda newspaper he remembers from Cold War times." Another user, @luchinaleks, also noted that "Senator McCain mixed up the Pravda newspaper and the Pravda.ru website."
Several prominent Russian Twitter personalities praised Mr McCain's article.
Blogger Oleg Kozyrev said: "That's a good McCain [article] on Pravda.ru. I think that if I lived in the USA, I'd be a Republican."
Sports commentator Vasiliy Utkin shared similar views: "Senator McCain is one cool dude. I was a fool for siding with Obama when they were competing for presidency."