French minister attacks German wage policy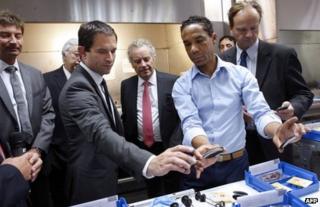 Days before Germany goes to the polls, a French economy minister has called for German wages to be raised in order to ensure fairer competition.
Social Economy Minister Benoit Hamon accused Germany of seeking an unfair advantage over the rest of Europe by keeping pay artificially low.
Speaking to BBC News, he called on the next government to "play fair".
German Chancellor Angela Merkel's main opponent has put a national minimum wage at the heart of his campaign.
Mrs Merkel has called on France to cut wages to become more competitive.
But Mr Hamon suggested he was tired of hearing calls for labour reform when "some countries in Europe are getting around employment directives and underpaying their workers".
The high cost of French labour means its products have become more expensive. Conversely, labour reform in Germany has meant their products have been getting cheaper.
To spur the growth it seeks, France needs exports and its biggest export market is Germany. Statistics show that in recent years France has imported far more goods from its neighbour than it has sent the other way.
It is this shift in competitiveness that has caused strain in Europe's key relationship.
'Unworkable'
Germany is reluctant to lose an unfair competitive advantage, Mr Hamon said on a visit to the hi-tech production line of Optic 2000, one of the biggest manufacturers of eyewear in France.
"I want Germany to have a social policy where competitiveness doesn't rely on jobs paying 400 euros [£336; $534] a month," he went on.
"I want Germany not to base its agricultural economy on salaries of seven euros an hour. That's what I want from the next German government.
"I want it to play fair with an economic model that isn't based on a competition of who can pay workers the least.
"We are pitting workers at seven euros against those who earn 10, 11 or 14 an hour. That can't work within the same territory. It's not possible. It can't work."
Two recent studies have underlined the effect on the French economy. The first is the competitiveness rankings of the Davos World Economic Forum which saw France slip to 23rd spot, 12 lower than its position in 2005. Over the same period Germany rose from 6th to 4th place.
The other report comes from the IMF. It tracks government indebtedness which in France is rising to 95% of GDP. The problem is that weak demand exacerbates the other problem area - public finances. France is slipping on both counts.
'Manufacturing at risk'
The government is worried by the yawning trade deficit which undermines their efforts to boost growth.
Optic 2000 may be successful but it operates in a sector in which a third of the jobs have disappeared abroad in just 10 years.
"Optic 2000 is a company that's made production in France a priority - they have shown willingness to relocate their activities to France," Mr Hamon said.
"France can't just become a service economy where factory workers are replaced by hairdressers and fast-food delivery staff. We must protect our manufacturing."
It is unlikely the next German government will have a radically different approach from the present one and that, of course, has implications for France. Throughout the eurozone crisis, Mrs Merkel's mantra has been "solidarity in exchange for solidity".
In answer to Mr Hamon, Berlin will support its neighbour but only if France puts its own house in order first. Expect, then, some more sparks in the months to come.