African migrants break into Spain's Melilla territory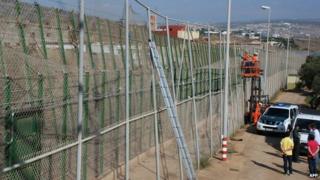 Hundreds of illegal migrants have torn down part of a 6m-high (19 ft) fence that surrounds the Spanish territory of Melilla in north Africa.
About 100 people broke through from Moroccan territory, illegally entering the European Union.
Six Spanish civil guard officers were hurt in clashes between migrants and police. One migrant broke his leg when he fell from the fence, said officials.
Thousands of migrants make for Morocco each year to try to cross the fence.
Melilla - home to about 80,000 people - has one of the European Union's two land borders with Africa. The other is Ceuta, another Spanish territory north of Morocco.
The Spanish government says unrest in northern Africa has swelled the numbers of people trying to reach the EU by crossing the fence.
The migrants who got into Melilla on Tuesday would be housed in an immigrant reception centre, the AFP news agency reports.
The governor of Melilla, Abdelmalik el-Barkani, said in May that police in the territory were struggling to cope with the flow of migrants.
He said a crackdown on migration to the Spanish Canary Islands in the Atlantic was driving greater numbers of migrants to Melilla.