Police await results of tests on skeletal remains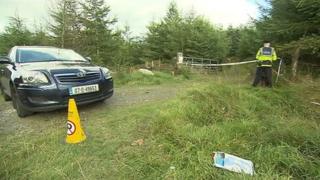 A series of forensic, dental and DNA tests are being carried out on skeletal remains found near Dublin on Friday.
A woman out walking found the remains at Kilakee Mountain, Rathfarnham.
Police have released few details about the remains saying the investigation is at an early stage.
They could not confirm reports that the remains belonged to a woman. Some Irish media have speculated that the remains could belong to one of 20 missing women.
However, police said it was too soon to tell the sex of the person found.
Trainers
Police are working with officers from the Serious Crime Review Team, and using the services of a forensic anthropologist to try to establish how long the body lay undiscovered.
Forensic examinations have been continuing at the scene.
A pair of trainers found close to where the remains were found is among the items being examined.
It is understood that detectives are liaising with police from Operation Trace, an inquiry into the disappearance of six young women in Leinster during the 1990s.
However, there has also been speculation that the woman died more recently.
It is understood police hope to have some test results by early next week.