Two die in fire near Enniscorthy, County Wexford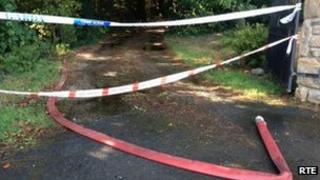 A nine-year-old girl and a woman aged 87 have died in a fire at a house in County Wexford in the Republic of Ireland.
Emergency services were called to the fire at a house at Clohass, near Enniscorthy, at about 00:30 BST.
The woman who died in the fire was living in the house. The girl was staying in the house along with her mother and her mother's partner.
Police said the child was not related to the older woman who died.
The child's mother and her partner were returning to the house from a night out when they discovered the fire.
The woman's partner, a man in his 50s, tried to get in to the house, and was injured.
He is being treated in a hospital in Dublin.