Mars One: More than 850 Irish people apply for space mission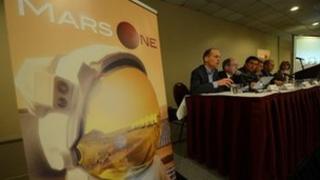 More than 850 people from Ireland have applied to take part in a proposed mission to Mars, with the aim of starting the first human settlement.
The Irish applicants are among 202,586 people from around the world who have expressed their interest in taking part in the Mars One project.
It is run by a Dutch foundation that "hopes to establish a permanent human settlement on Mars in 2023".
Mars One opened its "astronaut selection program" in April this year.
The first round of applications closed earlier this week and the organisers said that the majority of applications (24%) were received from people living in the United States.
Would-be Indian astronauts were the second biggest applicant group at 10%, while Chinese applicants were third at 6%.
One-way ticket
Great Britain was fifth in the applicant space race. British people made up 4% of the Mars mission applications, one percentage point behind Brazil.
In response to a query from the Irish state broadcaster, RTÉ, the organisers confirmed that more than 850 of the applications they received in the last five months were from Irish people.
From this initial pool of aspiring Martians, the organisers say they will narrow their selection over the next two years, choosing up to 40 individuals for seven years of full-time training.
They said they hope to select a team from the trainees who will "become the first humans ever to land on Mars" in 2023.
However, the successful applicants would receive a one-way ticket to the red planet- as the plan is to send the astronauts to Mars to "live there for the rest of their lives".
Stichting Mars One describes itself as a Dutch non-for-profit foundation and also "the mother company of Interplanetary Media Group, a for-profit company, which enables the foundation to secure funds from its investors".
It is led by the Dutch entrepreneur Bas Lansdorp. His team began planning the mission in 2011.