China panda diplomacy sparks Belgium row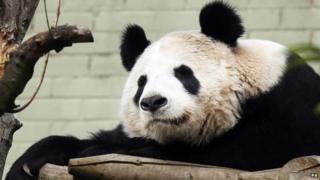 China's loan of two pandas to Belgium has fallen foul of Belgian linguistic divisions, after it emerged that the bears would go to a zoo in the French-speaking region of the country.
Beijing made its offer during a visit by French-speaking Belgian Prime Minister Elio Di Rupo this week.
Many in the Dutch-speaking region of Flanders are outraged by the decision.
The rare bears, a reliable draw for visitors, are to be sent to a wildlife park in the southern Wallonia region.
Belgium's Antwerp Zoo, in northern Flanders, said it was disappointed. It housed pandas in 1987 and made an unsuccessful bid for another pair 10 years ago.
"We should have been able to count on the support of the prime minister," zoo spokeswoman Ilse Segers was quoted by the AFP news agency as saying.
The row also made the front pages of the national newspapers, after a member of the Flemish separatist N-VA party, Zuhal Demir, accused Mr Di Rupo of intervening to ensure the animals went to the Pairi Daiza park.
The prime minister has dismissed the claims, saying the Antwerp Zoo had made no official request to house the animals.
The four-year-old male and female pandas, Xinhui and Haohao, will be on loan for 15 years.
Tensions between the two main language communities in Belgium sometimes run high, and the issue has brought down several governments, creating frequent political instability.