Guinness record bid: Bulgarian man in bag swims Lake Ohrid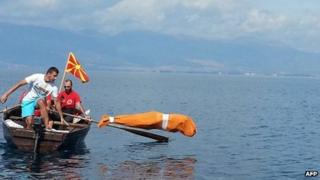 A Bulgarian man has swum more than 2km (1.25 miles) tied up in a bag hoping to set a Guinness World record, the organisers of the event have said.
It took Jane Petkov some two and three-quarter hours to cross the distance in Lake Ohrid in Macedonia, reports say.
With his arms and legs tied to his body, the 59-year-old swam on his back "like a dolphin", organiser Saso Tockov told the AFP news agency.
The "amphibian man's" average speed was 0.7km/h, Macedonian media said.
"I was very cold for the first kilometre but after that it was all fine - no problem whatsoever," Mr Petkov was quoted as saying after completing the swim on Tuesday.
"Had the water been warmer, I could have 10km or more."
The event organisers said they had properly documented the swim in order for it to be officially recognised as a Guinness World record.
However, there was some discrepancy in local reports over the distance that Mr Petkov had swum while the exact time he spent in the water varied from 2 hours 47 minutes to 2 hours 55 minutes.
Guinness World Records - which registers unusual feats - has so far made no public comment on the issue.