Barroso's state of union: EU must not delay reforms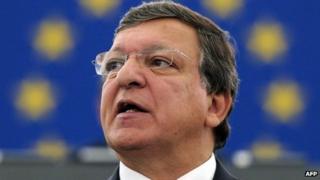 The head of the European Union's executive has warned that the bloc must not ease off on reform as growth edges back to the economy.
In his annual state of the union address, Jose Manuel Barroso said there was "no way back to business as usual".
"The recovery is within sight," he said, but warned it was fragile and that political leaders must "keep up our efforts".
He urged the eurozone to press ahead with the creation of a banking union.
Mr Barroso, president of the European Commission, said the union must complete the project to "make sure that taxpayers are no longer in the front line to pay" when banks failed.
The European Parliament is expected to vote on Thursday this week on legislation establishing the first pillar of the banking union - oversight of the eurozone's biggest banks by the European Central Bank.
However, other elements of the banking union are proving harder to establish because of opposition by some governments.
Speaking in Strasbourg, Mr Barroso said all the EU's economic efforts must be focused on growth, because that was necessary to remedy "today's most pressing problem: unemployment".
He said the level of unemployment - 26 million people across the union - was "economically unsustainable, politically untenable, socially unacceptable".
In a debate following his speech, he ventured into British politics, criticising the leading British Conservative Martin Callanan for sounding too Eurosceptic, suggesting that it was a strategy that could backfire in next year's European elections by handing more votes to the Eurosceptic UKIP.
"When it comes to being against Europe," Mr Barroso said, if choosing "between the copy and the original, people prefer the original."
In response, Mr Callanan said it was "a bit rich for the unelected head of the European Commission to give electoral advice… but I suppose that's typical of him".
The exchange seemed to be the first shots of those European elections being fired, says the BBC's Chris Morris in Strasbourg.
'Stand by Ukraine'
On Syria, Mr Barroso said "a strong response" was needed to the use of chemical weapons, and called the proposal for Syria to hand over its stockpiles "potentially a positive development".
He implicitly criticised Russia for putting pressure on former Soviet states to reject the European Union and align with Moscow instead.
Armenia recently announced it would be joining Russia's customs union despite long talks aimed at bringing it closer to the EU. Moldova and Georgia are reportedly under pressure to do the same, and the EU is especially concerned about the biggest country in the region, Ukraine.
"Today, countries like Ukraine are more than ever seeking closer ties to the European Union, attracted by our economic and social model. We cannot turn our back on them. We cannot accept any attempt to limit these countries' own sovereign choices," Mr Barroso said.