Euromillions: Irish and Spanish players share 25m euro jackpot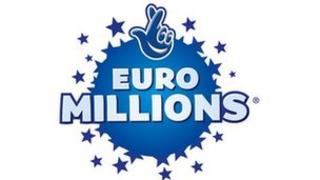 Two Euromillions ticket holders in the Republic of Ireland and Spain are to split the winning jackpot of 25.6m euros (£21.6m).
Both players matched five numbers and two lucky stars in Friday night's draw.
The jackpot winners are each due to collect 12.8m euros (£10.8).
The numbers drawn were 11, 23, 25, 32, 37, and the lucky stars were 4 and 7. It is the second time in three months that an Irish ticket has split the Euromillions jackpot.
In June, a shop in Beaumont, County Dublin, sold a ticket that shared in a top prize of 188m euros (160m).
The Beaumont ticket holder, who wished to remain anonymous, picked up a cheque for almost 94m euros (£80m), splitting the jackpot with a player in Belgium.
The player immediately become the 96th richest person in Ireland.