Some 700 migrants rescued off Italy over two days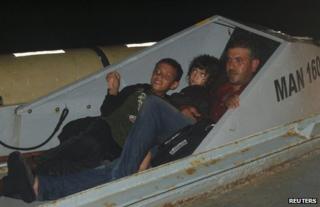 More than 700 people have been rescued in the last two days from boats carrying migrants and refugees off the coast of Italy, coastguards say.
Four vessels loaded with people from Syria, Egypt, Eritrea, Nigeria and Ghana got into difficulty off Sicily.
One family of four had to be rushed to hospital for emergency treatment.
The upsurge of violence in Syria and Egypt has seen an increase in the number of refugees attempting to reach Italy in recent months.
Thousands of people have made the hazardous crossing from North Africa to Italy or Malta in open boats.
Migrants arriving clandestinely by boat in EU states are assessed to see whether they have genuine grounds for seeking asylum in Europe.
Italy has urged its EU partners to do more to share the burden of housing them.