Greece PM sees end to recession in Thessaloniki speech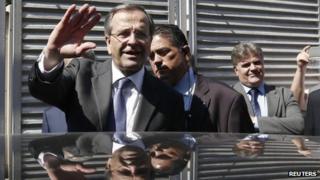 Greek Prime Minister Antonis Samaras says the country's six years of recession will end next year.
He said that Greece was now an "island of stability" in an ever less stable region.
Mr Samaras was speaking at the Thessaloniki trade fair, which has been the scene of protests about the country's tough austerity measures.
More protests are expected on Saturday, this time in support of civil servants who face losing their jobs.
Four thousand police have been deployed to avoid violence.
Greece's economy has shrunk by 23% since 2008. So far the country has received two bailouts of about 240bn euros (£205bn).
As part of current bailout conditions, the government has been forced to impose drastic cuts, tax rises, and labour market and pension reforms.
'Grecovery'
The BBC's Mark Lowen in Athens said that in a country where economic confidence is sorely lacking, the prime minister showed plenty of it in his Thessaloniki speech.
He told his audience that talk of "Grexit", Greece's departure from the euro, had been replaced by "Grecovery".
He talked up the prospect of foreign investment and said his government was enacting long-delayed reforms such as tackling tax evasion.
European Union and International Monetary Fund lenders project the Greek economy will shrink by 4.2% this year, after contracting by 6.4% in 2012.
But Mr Samaras said the 2013 contraction would be "smaller than forecast".
Greece would achieve a budget surplus this year, Mr Samaras said, apart from interest payments on its loans.
He said Greece had done its part by achieving the largest ever reduction in the budget deficit - and added that the country's creditors must do theirs by further lightening the debt burden.
Mr Samaras ended his speech in patriotic style, saying five or six years of tough challenges could not wipe out 3,000 years of glorious history.
But our correspondent says that, on the streets, few share Mr Samaras' hope.
Protesters are holding a rally on behalf of thousands of civil servants who could lose their jobs, and there is also anger at reports that state-owned defence companies could close.
Greece's economy has shrunk further than any other in Europe. International creditors are expected to review the country's aid programme in the autumn.