Cyprus lawmakers adopt key terms for EU/IMF bailout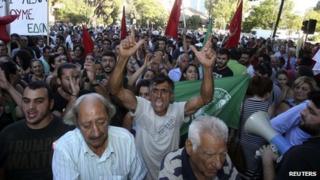 Cypriot MPs have adopted legislation demanded by international creditors in return for the second instalment of a 10bn-euro (£8.7bn) EU/IMF bailout.
In an earlier vote, they initially rejected the two bills bringing co-operative banks under the central bank's direct supervision.
Cyprus has already received 3bn euros as part of the deal agreed in March.
The island has been in turmoil since the collapse of Greece's economy, where Cypriot banks had huge investments.
The Cypriot rescue package is aimed at the country's two largest banks, Bank of Cyprus and the now defunct Laiki.
It was signed with the troika of international lenders - the European Commission, European Central Bank and International Monetary Fund.
Unexpected vote
A narrow majority of MPs initially rejected the legislation on Thursday evening. But lawmakers switched their vote just hours later, by 41 to three in favour of the two bills.
The legislation is a condition for the release of the next bailout instalment of 1.5bn euros.
Observers said the initial rejection was unexpected.
Finance Minister Harris Georgiades had rushed to the parliament in the capital, Nicosia, to meet party leaders and re-negotiate the ballot.
Meanwhile, several hundred demonstrators outside parliament protested against the austerity measures.
The terms of the bailout have been controversial because they involve heavy losses for depositors with large balances in their accounts.
As part of the agreement, those with more than 100,000 euros in their accounts at Laiki Bank will lose an unspecified amount in a "haircut" - expected to be as much as 40% of their investment. That levy is designed to cover most of the 5.8bn euros that Cyprus is required to pay in order to qualify for the 10bn euro loan.
The measures are designed to raise billions towards the bailout, but protect bank customers with smaller deposits. Under EU rules, deposits of 100,000 euros or less are insured against bank failures.
The initial bailout plan in March had called for a levy on smaller deposits too, but that was rejected by the Cyprus parliament.
In June, President Nicos Anastasiades urged eurozone leaders to revise the terms of the bank bailout, saying the "haircut" imposed on large deposits had significantly eroded the capital kept by businesses in banks.
Cyprus is the fifth country after Greece, the Republic of Ireland, Portugal and Spain to turn to the eurozone for financial help during the region's debt crisis.
The government's austerity measures also include the privatisation of a number of state-owned companies.