Skulls found near Czech school in Prague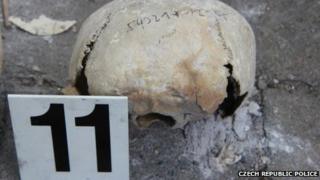 Fifteen human skulls have been discovered on a street in the Czech capital, Prague.
They were found in a wooden crate lying by a rubbish bin near a primary school.
A police spokeswoman told the BBC that archaeologists had been called in to help identify the remains.
Each skull had a serial number written on it - as did another skull found by a homeless man in a park pin in the city centre on Wednesday; detectives are investigating if the finds are linked.
A primary school headmaster in the Vinohrady district of the city contacted the police after the skulls were found in the dusty wooden box on Thursday morning.
The BBC's Rob Cameron in Prague says it is unclear why they were discarded in such a casual manner.
Police spokeswoman Jana Rosslerova said it was believed the skulls might have come from a private collection.