French Alps murder: Police still seeking answers one year on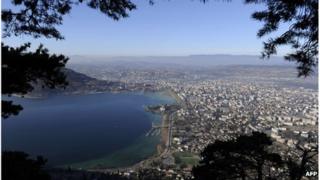 One year after a series of brutal killings which caused worldwide shock and curiosity in almost equal measures, the French town of Annecy seems, on the surface at least, to have settled back into its usual tranquil, charming rhythm.
The cafes in the old town are busy, the paths around the lake are full of walkers and cyclists admiring some of France's most beautiful scenery and enjoying the late summer sun.
But just steps from the lakeside, investigators at Annecy's Palais de Justice are still working on the case. Across the channel in Surrey, an inquiry team is hard at work too.
Because one year on, no perpetrator has been identified for the crime, in fact police have struggled even to find a logical motive.
Bullet casings
The killing of British Iraqi engineer Saad al-Hilli, his wife Iqbal, her mother, and a French cyclist happened in broad daylight in a popular tourist spot. The al-Hillis' two young daughters survived, making them eyewitnesses.
Passersby were on the scene within minutes, calling for help and giving first aid to seven-year-old Zainab, who had serious head injuries after being shot and beaten. Dozens of bullet casings lay scattered around the al-Hillis' car. Inside the car, underneath her dead mother's skirts, four-year-old Zeena hid, and was not discovered by French police for a further eight hours.
These circumstances - the time of day, the physical evidence left at the scene, the two child witnesses, make this case unique and, some might think, uniquely easy to solve.
But it has not turned out that way. More than 100 police officers in France and Britain are now involved in the case, 800 witnesses have been interviewed, but the investigation seems very little further on than it was a year ago.
CIA theories
Who were the targets in the Annecy murders? The al-Hillis? Or the French cyclist who was killed with them? Investigators now seem to have concluded that the cyclist was simply in the wrong place at the wrong time, although his background, including his job in the French nuclear industry, has been closely examined.
Saad al-Hilli's situation has been thoroughly investigated too: a British citizen with Iraqi background, he worked in satellite technology. On the wilder fringes of cyberspace, conspiracy theories about Mossad or CIA involvement abound, but these have not been taken especially seriously by the official inquiry.
Still, French investigators have explored the idea of a contract killing, and the fact that at least three of the victims were carefully shot twice in the head, points to that possibility.
But the gunman, or gunmen, also shot wildly, randomly, firing at least 25 bullets from an antique Luger pistol, not a typical contract killer's weapon, but easily obtainable just across the border in Switzerland, where it is ex-Swiss Army issue.
Random madman?
The sheer brutality of the killing, described as savage by one of the police officers first on the scene, also led investigators to speculate that the murders may have been the work of a lone psychopath.
The fact that the al-Hillis seemed to be enjoying a happy family holiday, and at no time appeared afraid - they stopped to take holiday photographs just moments before the shooting - lent credence to the lone madman theory.
When, earlier this year, in the Swiss village of Daillon, a man with known psychiatric problems randomly shot three people, French police were interested. But their inquiries with their Swiss counterparts yielded nothing: this lead too proved to be a dead end.
Money problems
Very early on in the case, the French police suggested they believed there may have been disagreements within the al-Hilli family, perhaps an argument over money.
Over the course of the investigation it has become clear that Saad al-Hilli had been in dispute with his brother Zaid over money inherited from their father.
Kadhim al-Hilli died in Spain in 2006, and an account originally belonging to him was found in a Geneva bank. It is believed to contain about 800,000 euros.
But, as Dario Zanni, the Geneva investigator currently working on the case points out, arguments within families over money or inheritances are "nothing exceptional".
In other words they are not proof of motivation for murder.
Still, in July of this year, at the request of their French counterparts, Surrey police arrested Zaid al-Hilli on suspicion of conspiracy to commit murder. He was released on bail after two days and has always denied any involvement in the killings.
French investigators are still pursuing one angle related to Zaid al-Hilli' however - a series of phone calls he apparently made to Romania in the days just before the attack.
Cold blood
And what of the two daughters who were present throughout the attack and must have seen something?
They are, unsurprisingly, deeply traumatised by their experiences and, police say, have so far been unable to tell them anything which would help their investigation.
And so, one year on, the Annecy murders remain a mystery. It is a painful thing for any police officer to have to admit but both French and British investigators quietly acknowledge the case may never now be solved.
On Friday morning, investigators from France and Britain will hold a joint press conference in Annecy. But it is not thought they are likely to reveal any new information.
So the inquiry continues, if only because someone capable of shooting four people in cold blood and of beating a child so savagely she was left for dead, is still out there.