German home-schooled children taken into care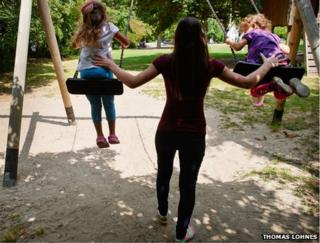 A court in central Germany has ordered four children to be taken into care because their parents refused to stop home-schooling them.
The parents are deeply religious and have even refused to send the children to a Christian private school, saying they wanted to keep them away from "undesirable influences".
The children, aged 8 to 14, were taken from their home in Darmstadt in a police raid last Thursday.
Home-schooling is banned in Germany.
Officials said the parents had kept their children away from the outside world.
The children were taken into care as a last resort, in order to guarantee their right to education, said the head of the regional youth services department, Klaus Behnis.
They also had a right to grow up to be capable of living in society, which was only possible if they were exposed to different points of view, he added.
The parents had refused to have their children's levels of education tested, Mr Behnis said.
The case had been the subject of legal proceedings in Germany for several years.
The US-based Home School Legal Defense Association (HSLDA) said the family had spent four years moving around the EU, in search of a place where they could home-school their children.
However, they had to return to Germany as the father was unable to find work, the HSLDA.
On its website, the association quoted the father as saying: "They told me they had an order to take the children. At my slightest movement the agents would grab me, as if I were a terrorist."
He said it was "like a scene out of a science fiction movie" and said both his neighbours and the children had been "traumatised by this invasion".
A spokesman for the local authority in Darmstadt-Diesburg said the children were not yet going to school, according to the magazine Der Spiegel.
He said the children were in written contact with their parents.