Russia warns citizens of US extradition risk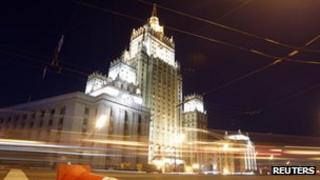 The Russian foreign ministry has warned Russians against visiting countries that have extradition deals with the US, if they suspect they could face arrest and transfer to the US.
A warning on the ministry website alleged that several Russians had been "in effect abducted and taken to the US" in "prejudiced court proceedings".
Russia's granting of temporary asylum to US intelligence leaker Edward Snowden angered Washington.
But the warning did not mention him.
Instead, the warning cited "unjustified verdicts" in the cases of Viktor Bout and Konstantin Yaroshenko, both jailed after trials in the US.
Bout was sentenced to 25 years in prison in April 2012 after being found guilty of conspiracy to kill Americans and US officials, delivering anti-aircraft missiles, and aiding a terrorist organisation. Bout, extradited from Thailand, had long been accused of arms trafficking.
Yaroshenko, a cargo pilot, was arrested in Liberia in an international drug bust and transferred to the US, where he was sentenced to 20 years in 2011.
Detentions 'more frequent'
"Instances of Russian citizens' detention in various countries of the world at the request of US law-enforcement bodies, with the aim of their extradition and prosecution in the US, are becoming more frequent. The most recent cases include the arrests of Dmitry Ustinov in Lithuania, Dmitry Belorossov in Spain, Maxim Chukharev in Costa Rica and Alexander Panin in the Dominican Republic," the ministry said.
Mr Ustinov was arrested in Lithuania in April and then extradited to the US, on suspicion of smuggling infrared surveillance cameras.
Mr Belorossov was arrested at Barcelona international airport, suspected of fraud.
Mr Chukharev is suspected in the US in connection with the online payments system, Liberty Reserve, which allegedly handled illegal money transfers.
Mr Panin, a computer programmer, was arrested in June and then extradited to the US, accused of internet banking scams.
The ministry said Russian embassies and consulates "do of course give consular and legal assistance to Russian nationals in trouble, but one can hardly hope for a successful conclusion in cases of this kind".
"In these circumstances, the Russian Foreign Ministry advises Russian citizens to refrain from visits abroad, particularly to countries that have mutual extradition treaties with the US, if there are good reasons to suspect that US law-enforcement bodies have anything against them," it said.