Belarus-Russia potash dispute escalates with trade tensions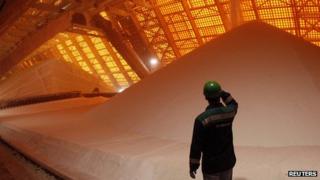 A Belarus-Russia dispute over control of potash exports has escalated, with Belarus threatening to prosecute a billionaire Russian businessman.
Suleiman Kerimov is the main shareholder in Uralkali, a Russian potash firm reported to control 20% of the world market in the chemical, a key ingredient in fertiliser.
Belarus says it suspects him and other managers of wrongdoing.
Russia now says it will reduce oil deliveries to Belarus next month.
The deliveries will be cut by 400,000 tonnes, pipeline operator Transneft said, without linking the decision to the potash dispute.
Transneft vice-president Mikhail Barkov, quoted by Interfax news agency, said the reason was a need to upgrade an obsolete section of pipeline. He did not say when the repairs would be completed.
Uralkali's CEO Vladislav Baumgertner was arrested in Belarus on Monday.
Belarus has already put four other Uralkali managers on Interpol's wanted list, including sales chief Oleg Petrov. They are accused of abusing their authority "for mercenary goals leading to substantial damage to state and public interests" in Belarus.
The row centres on the Belarus Potash Company (BPC), a joint venture set up to manage sales for Uralkali and the Russian firm's Belarusian partner Belaruskali.
On 30 July, Uralkali pulled out of the BPC venture, saying it wanted to boost its own production - a move expected to lower potash prices.
Potash - a term used for various compounds containing potassium - is a key export for Belarus. State officials in the ex-Soviet republic still keep a tight grip on the economy and price competition is minimised.
Economic impact
Russian officials have reacted angrily to the Belarusian investigation and tensions have spilled over into other areas of economic co-operation.
Besides the cut in Russian oil deliveries, Russia's public health chief has complained that a large amount of imported Belarusian dairy produce fails to meet Russian standards, Interfax reports.
Gennady Onishchenko of the Rospotrebnadzor health watchdog said that 72 out of 240 samples of Belarusian dairy produce tested in the Moscow region were non-compliant.
"We expect an appropriate response, to determine further actions by Russia," he said.
It is not the first time that the health watchdog has been involved in a diplomatic dispute with one of Russia's ex-Soviet neighbours.
In 2006 Russia banned imports of Georgian wine, fruit and mineral water - the Caucasus republic's main export earners. In that case, too, public health concerns were cited as the reason for the Russian boycott.
Russia's ambassador to Belarus, Alexander Surikov, was summoned to the Belarusian foreign ministry on Wednesday.
The ministry said First Deputy Foreign Minister Alyaksandr Mikhnevich "drew the ambassador's attention to the impermissibility of incorrect interpretations and inventions" regarding the detention of Mr Baumgertner.
Earlier Mr Surikov was quoted as saying the arrest had "discredited the Belarusian authorities".
Mr Baumgertner remains in custody in the capital Minsk. He had gone there at the invitation of the Belarusian government.
He met Belarusian Prime Minister Mikhail Myasnikovich on Monday and was then detained as he was preparing to fly out of Minsk, company spokesman Alexander Babinsky said.