Lisdoonvarna matchmaking festival in gay invite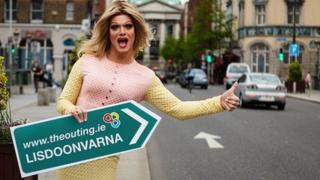 One of the world's biggest matchmaking festivals has for the first time in its 157-year history extended an invitation to gay people.
Every September, tens of thousands of people looking for love - or just a good night out - descend on the small town of Lisdoonvarna in County Clare.
The weekend of 31 August to 1 September will see a new twist, with The Outing dedicated to gay and lesbian people.
The weekend will feature matchmaking events, concerts and more, all hosted by drag queen Panti.
Event director Donal Mulligan said the idea had first been mooted in 2005, but the organisers did not think it would have worked at the time.
"It was kind of shelved until this year and with civil marriage possibly coming in next year with the referendum, with civil partnerships having come in and with just a lot more interest in gay culture in Ireland, they decided this year would be the year to do it," he said.
"We're taking the trad elements of the 157-year-old Lisdoonvarna festival and we're gaying them up."
Fire threat
Mr Mulligan said reaction to the event had been hugely supportive - except for one threat to the hotel hosting it.
"Right at the beginning a gentleman actually sent a death threat to the hotel - it turned out not to be a credible thing at all.
"He sent a threat that he would set fire to the hotel if the event went ahead, but he included his home address. We alerted the Garda, but that threat they're not taking particularly seriously.
"We did prepare ourselves that there might be some ill feeling towards it, but apart from that one case, there's been none and particularly in Lisdoonvarna itself the local businesses and people have been incredibly supportive of it in a way I didn't foresee at all.
"I thought they'd be tentative about it in the first year, but they're throwing themselves behind it."
He said bookings had come in from "all over the place", including France, Switzerland, the UK and the US.
"It's a huge mix of people who are going - it's for single people who are looking for love, it's also for couples and for groups of friends and straight and gay we're getting that across the board.
"It's just going to be a really, really fun event and our whole idea is to make it as welcoming and inclusive as possible so everyone can enjoy it."
Veteran matchmaker
Initially designed for hardworking farmers nearly 160 years ago, Lisdoonvarna's matchmaking festival is now finding love for singletons from around the world.
Willie Daly, Lisdoonvarna's 71-year-old third generation matchmaker, said: "Gay people exist around the world and it'll be nice for them to find love and happiness.
"I've never done anything like this before - I've done the matchmaking for maybe 50 years or so, but I've never done anything like this.
"So it's going to be quite new. It'll definitely be different."
He said Lisdoonvarna was a small town but generated a "marvellous atmosphere" during the 33 days of the festival.
"People come looking for love, looking for happiness," Mr Daly said.
"Dancing starts every morning at 11 o'clock, it's lovely really. A lot of beautiful people attend it, people with a lovely zest for life, happy kind of people.
"A girl could be walking down the street and a fella wouldn't say 'how are you?' he'd just say 'would you marry me? It's that kind of town."
The Outing takes place in Lisdoonvarna on 31 August and 1 September.