Freight delayed by Huelin-Renouf collapse to go to Jersey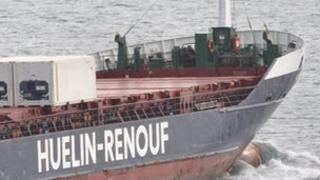 Some freight delayed by the collapse of a shipping company is to be transported from the UK to Jersey but not Guernsey.
Huelin-Renouf, which stopped trading last Tuesday, employed 90 staff in the Channel Islands, the UK and France.
Arrangements had been made to carry 60 containers from Southampton to Jersey on board a chartered vessel, joint liquidators and Ports of Jersey said.
However, Guernsey would have to wait longer for goods from Southampton, the liquidators added.
The vessel bound for Jersey is due to land on Monday evening.
Jersey's government said it would support the island's freight industry for six months.
Liquidators said they had been unable to agree similar arrangements in Guernsey and customers would be contacted separately to make arrangements for the collection of goods.
'Complex' liquidation
Huelin-Renouf employed 40 people in Jersey and another 50 in Guernsey, Southampton in England and Cherbourg in France.
Accountancy firm Grant Thornton was appointed by the Royal Courts of Jersey and Guernsey last week to oversee the firm's insolvency.
Grant Thornton described the liquidation as "complex and multi-jurisdictional" and warned the outcome was unpredictable.
However, it said other companies could be ready to take on the freight operation.
The liquidators added that redundancies could be reduced through competing companies taking on former Huelin-Renouf staff.