Dublin hospital to investigate abortion case leak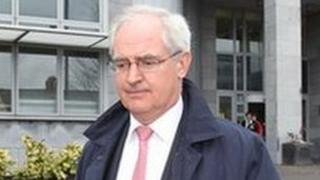 A Dublin maternity hospital is to investigate a leak which identified a woman who underwent a termination under new Irish abortion legislation.
The Irish Times reported the termination as the first since the new law was enacted in July.
It said that the mother was almost 18 weeks pregnant with twins when she was admitted to the National Maternity Hospital.
A senior doctor at the hospital said he was outraged by the leak.
Clinical director, Dr Peter Boylan, described it as absolutely unacceptable, unfair and unethical, and said he believed the leak allowed the patient to be identified.
Patient confidentiality was absolutely critical in the hospital's dealings with women, especially those in sensitive situations, he added.
And he said that if it was a doctor who leaked the information, he or she could end up facing a Medical Council disciplinary hearing.
Risk to life
The termination itself is not thought to have been controversial.
Foetal heartbeats were discovered when the woman was admitted, but it was discovered that her membranes had ruptured and that she had a sepsis infection that could have endangered her life.
Her family and the medical team decided to abort the pregnancy because of that risk to life.
The case is very similar to that of the Indian dentist, Savita Halappanavar, in Galway last October, except that Savita asked for a termination, was refused one and died a week after her admission.
The woman in this latest case was given antibiotics for her infection and survived.
Indeed, there are grounds for believing that a termination would have been carried out in similar circumstances prior to the July law that aims to give doctors legal certainty as to when abortions can be carried out.
It is thought unlikely that Pro-Life campaigners will protest about this latest termination.
The controversial part of the recent abortion law, as far as they were concerned, was the proposal to allow a termination where three doctors unanimously agreed that a pregnant woman is suicidal because of her pregnancy.
They believe that could be used to allow for more widespread abortion.