Belgorod murders: Russia jails gunman Pomazun for life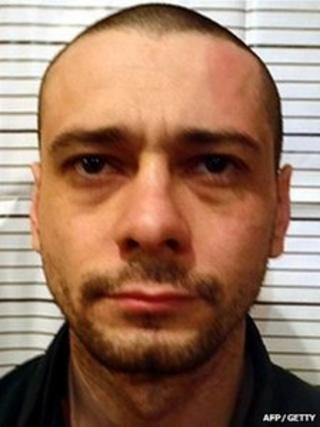 A court in western Russia has jailed a man for life for shooting six people dead in the city of Belgorod.
Sergei Pomazun, 31, opened fire in a hunting shop in April, killing three people there, and then fired at passers-by, killing three more.
The victims included two schoolgirls, aged 14 and 16.
Pomazun fully admitted guilt, the judge said. The day after the shooting and just before his arrest, he also stabbed and wounded a policeman with a knife.
Pomazun will serve the sentence in a penal colony under a harsh regime.
Before the shooting he had spent about seven years in prison for robberies.
In court he said: "I did not plan to murder, the shooting began all by itself", and asked for a 25-year jail sentence.
In the hours before the shooting he had stolen a rifle belonging to his father. He then went to the hunting shop, where he shot and killed two shop assistants and a customer.
He then opened fire at passers-by outside the shop, killing a man and a teenage girl on the spot. Another girl was wounded and died later in hospital.
A psychiatrist's report on Pomazun after his arrest found no evidence of mental illness, though it described him as having a short temper and a high opinion of himself.