Semi-naked 'drug user' dances on Angela Merkel's jet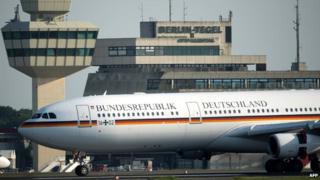 German authorities are investigating how a man was able to spend four hours partying alone in his underpants on a military jet used by Angela Merkel.
The 24-year-old entered the cockpit, pushed buttons randomly, deployed an emergency slide, and sprayed a fire extinguisher over the plush interior.
Police using a megaphone tried and failed to persuade the man to leave.
They found a bag with his identity documents and, allegedly, ecstasy and marijuana near the aircraft.
The incident, at Cologne airport on 25 July, was brought to a close by a police dog biting the man in the leg.
The suspect, named only as Volkan T, has been taken to a psychiatric institution.
He is reportedly a German bodybuilder of Turkish descent who was not previously known to police.
'Errors'
Berlin-based paper Welt am Sonntag has seen a leaked police log of the incident and claims the document shows "security weaknesses" and "errors" by the air force.
The incident got underway when the local resident, reportedly carrying his bag of drugs and suffering from relationship worries, made his way to the military part of Cologne-Bonn airport.
He got through the gate by saying he was planning a wedding at the officers' mess and wanted to look at the building again.
From there he was able to climb over a barbed wire fence onto the military airfield, undetected by security cameras.
Spotting the government plane, one of two Airbus A319s maintained by the German military for high-ranking politicians' use, he climbed onto its wing where he proceeded to dance in his underwear.
From there he was able to open the emergency exit door and enter the plane.
The door to the cockpit was open; the man "pressed all the the buttons at random," eventually activating an alarm.
Damage
The plane was full of fuel and could have been flown as far as Beijing, the Welt am Sonntag claims, had the intruder had the requisite knowledge.
It was another three hours before the plane was secured, in which time the man allegedly caused around 100,000 euro ($134,000, £85,000) worth of damage.
The aircraft, used by Chancellor Merkel for official trips, is fitted out in cream and beige with a private office with two VIP seats and a sofa, a conference suite and a further 32 seats for delegations.
It has been repaired and is now back in the service of the nation.
Mrs Merkel herself was many miles away at the time, enjoying a performance of "The Flying Dutchman" at the Bayreuth Festival in Bavaria.