EU states debate response to Egypt's deadly crisis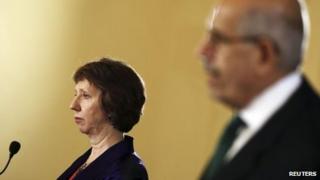 The EU's top foreign policy official, Catherine Ashton, has offered to return to Egypt to help mediate a political solution to the crisis in the country.
"I am more than willing to go back... if they wish me to," she said.
She was speaking to reporters in Brussels ahead of an extraordinary meeting of EU foreign ministers, who will discuss whether to continue with a 5bn-euro (£4.3bn) aid package to Egypt.
Violence in the country has left more than 900 people dead in the last week.
Going into the EU meeting, Swedish Foreign Minister Carl Bildt deplored the violence in Egypt, saying "primary responsibility rests with the regime forces".
He called it "an unprecedented wave of repression and violence" and added: "It's very important that Europe speaks up."
He said he would not be arguing for a suspension of aid, but "we are clearly not sending taxpayers' money to people responsible for massacres".
Sweden would continue to send development aid to Egyptian women's rights groups and other civil society activists, he said.
Dutch Foreign Minister Frans Timmermans said the EU would "have to be very clear on condemning the excessive violence" in Egypt.
He said "it would not be wise to provide the Egyptian army and security forces with arms in this situation".
He also stressed "the need for more moderate people to be heard again [in Egypt] and be able to play a role in finding a solution".
Support for democracy
Earlier, Lady Ashton said member states would have to balance the need to continue to support the people of Egypt, while also reflecting their concerns about the situation.
There is "great concern about acts of violence" among the countries of the EU, Lady Ashton noted, but member states also recognise they need to be "supporting democratic forces" in the country.
In November 2012, a 5bn-euro package of aid for Egypt was agreed - including 1bn directly from the EU, with the rest from the EU-associated European Investment Bank and European Bank for Reconstruction and Development.
But Egypt has not been meeting the conditions to receive such aid, so most of it is already frozen. The EU will not release it unless there is progress in fighting corruption and boosting transparency in Egypt.
The EU says it has sent about 450m euros to Egypt in the last three years.
However, this money is not going to the government: it is being spent on projects to improve sanitation and water supplies, and to help towards construction of the Cairo underground train system.
In 2013 only 16m euros has been paid to the Egyptian government out of the 1bn euros in EU development funding earmarked for Egypt for 2007-2013.
Separately, the EU has allocated about 23m euros to non-state civil society groups in Egypt.
EU military aid is worth about 140m euros a year, compared to US defence aid worth a much greater $1.3bn (1bn euros; £0.8bn). The US also gives about $250m in other assistance.
Meanwhile, Saudi Arabia, the United Arab Emirates and Kuwait recently pledged $12bn in aid.
Military aid reviewed
Several EU countries - like Denmark - have already cancelled aid projects or have decided to hold back grants to Egypt in recent days.
Germany says its projects to help the poor that are already up and running will continue, but that for now there will be no new aid for the Egyptian government.
Britain has suspended projects with the Egyptian security forces, and revoked some export licences. Other countries have also put military support on hold.
"As for economic assistance that helps the people of Egypt directly, that may be a different matter," UK Foreign Secretary William Hague said on Wednesday.
It is thought likely that the talks will consider the military and security support provided by several EU countries to Egypt, and whether there might be some formal suspension of these across the bloc.
But sources have told the BBC's Matthew Price in Brussels that the EU wants to avoid doing anything that could dilute its influence with all sides in Egypt.
Lady Ashton was last in the country in July, when she was allowed to meet the deposed President Mohammed Morsi.
She said the EU was working on "confidence-building measures with the different groups in Egypt, across the political spectrum, to try and help support a political solution".