Turkish diplomat meets Halawa family in Cairo prison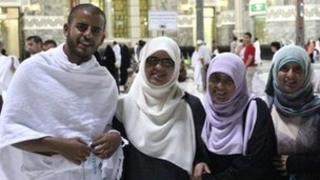 A Turkish diplomat has met four Irish citizens being held by authorities in Egypt.
Four members of the Halawa family were in Cairo's al-Fath mosque when it was cleared by Egyptian forces on Saturday.
The three young women and teenage boy are children of Hussein Halawa, the imam at Ireland's largest mosque in Dublin.
Irish junior minister Joe Costello said the Turkish diplomat had met the four siblings in prison.
"The situation has been changing very rapidly," Mr Costello said.
"As we understand, at the present time from a reliable source, a Turkish diplomat who was in the prison yesterday, met all four of the Halawa siblings and they said that they were in good form.
"They further told them that they would be taken to the prosecutor's office and then they would find out what the attitude of the Egyptian authorities are towards them."
Their sister Nosayba Halawa said she still has grave concerns for their safety.
"We are just wishing and hoping and praying that they will arrive back today or tomorrow," said Ms Halawa, at the family home in Firhouse, south Dublin.
"We have been told that they are safe but that doesn't mean they haven't been harmed or beaten."
The four siblings - Omaima Halawa, 20, her two sisters Fatima, 22, Somaia, 27, and their 17-year-old brother Ibrihim - all live in Dublin but had gone to Egypt on holiday with their mother, Amina Mostafa.
A spokesman for the Irish Department of Foreign Affairs said: "Officials are continuing with efforts to try to gain access to visit the siblings.
"We are in contact with the Egyptian authorities in that regard."
Tear gas
The Halawas were among hundreds of people who sheltered in the al-Fath mosque on Friday night, during a stand-off between security forces and supporters of the Muslim Brotherhood.
The Brotherhood is calling for the reinstatement of President Mohammed Morsi, who was ousted by the army last month.
Morsi supporters have staged several protests, including barricading themselves into the al-Fath mosque.
The mosque was being used as a makeshift morgue and treatment clinic for injured protesters. It was the scene of a lengthy siege on Saturday, as security forces fired tear gas into the building, and exchanged fire with at least one gunman.
Many people who were in the mosque were arrested, including members of the Halawa family.
The last direct contact the family had with the four siblings was a distressed phone call from Omaima and Fatima Halawa on Saturday.
They said they had been arrested and their phones had been taken from them, but had managed to borrow a phone to contact family members in Dublin.
Curfew
At that stage, the arrested pair did not know the whereabouts of Somaia or Ibrihim.
Nosayba Halawa said that when her sisters were detained they told the Egyptian authorities that they were Irish citizens, but this was ignored.
"They took their mobiles, and she told them 'you can't take me until someone from the (Irish) embassy would be with me', but as well, they ignored that totally. After that we didn't hear anything from them," she added.