Germany: Police free two hostages held in town hall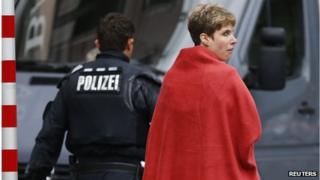 German police have arrested a man who was holding two people hostage at the old town hall in Ingolstadt in Bavaria.
The two captives have been released unharmed following a raid by armed officers. The 24-year-old hostage taker has been injured and taken to hospital.
The building was cordoned off after the siege began at around 09:00 local time (07:00 GMT).
The situation forced German Chancellor Angela Merkel to cancel a planned campaign visit to the town.
A police commando unit stormed the building at 17:50 local time (15:50 GMT), freeing the hostages and shooting their captor.
His injuries are not believed to be severe.
A third hostage - deputy mayor Sepp Misslbeck - had been released earlier, five hours after the siege began.
The assailant, a homeless man with a history of mental health problems, was reported to have been stalking a woman employed at the town hall for the past year, and as a result was banned from the building.
The woman concerned was believed to be one of the two people held hostage.
'Previous convictions'
The conflict had escalated in the past weeks after the man had been charged with breaking that exclusion order.
Ingolstadt's mayor, Alfred Lehmann, said he found the term "stalking" rather trivialising, as the man had "a whole list of previous convictions, which go far beyond what one would normally term stalking".
The hostage taker was armed with a handgun, though it was unclear whether it was real or imitation.
Der Spiegel reported that the hostage taker's psychiatrist had entered the building shortly before the resolution of the crisis, in order to talk with his patient.
Tablets had also been taken into the 14th Century building for the man, the magazine reported.
Mrs Merkel had planned to hold an election rally with Bavarian Prime Minister Horst Seehofer in the town at 17:00 on Monday.
Mrs Merkel's Christian Democrats (CDU) said her visit, and an event in neighbouring Regensburg, had been cancelled in light of the hostage-taking.
There was no suggestion of a link between the hostage drama and the chancellor's planned rally.
Mrs Merkel is campaigning for a third term in office in elections taking place on 22 September.