Irish schools exam errors: Staff cutbacks played significant role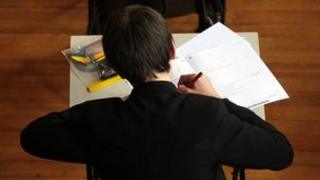 Staff cutbacks played a significant role in the "unacceptably high" number of errors in exam papers in the Republic of Ireland, according to a report.
The State Examinations Committee (SEC) said the mistakes were the result of human error.
The SEC said "significant and unplanned" staff turnover meant that the error rate was higher than normal.
Many of the mistakes were found in maths papers.
SEC blamed "the rapid and unplanned departure of so many of the division's most senior and experienced subject specialists".
The SEC report said that over the past three years 40% of its staff had left, most through incentivised early retirement schemes brought in as the Republic of Ireland tried to economise in the face of a major financial crisis.
As result, 30% of current senior exam assessment managers had been appointed in the last 12 months alone, the report said.
Overall, staffing at the SEC has been reduced by 15%.
The result, said the report's authors, has been "a significant consequential loss of corporate memory and critical experience".
Arabic error
SEC said a new maths syllabus had increased dramatically the workload for a reduced staff force.
Responding to the report, Minister for Education Ruairí Quinn said he was confident the SEC had a robust system in place to respond to mistakes.
Among the errors found in the exam papers taken by thousands of post-primary school pupils, was a trigonometry question in a Leaving Certificate higher level maths exam.
Another error was in a Junior Certificate paper on civic, social and political education, that incorrectly described the Irish Referendum Commission's role.
Most of the errors were in maths, but there were typographical errors in other subjects, including in the Leaving Cert Arabic paper.
Junior Certificate exams are usually taken mid-way through the Republic's post-primary school system, when pupils are about 15.
The Leaving Certificate is the final set of post-primary exams for school leavers and is taken when students are typically 17 or 18.