Germany's Deutsche Bahn warned over Mainz rail chaos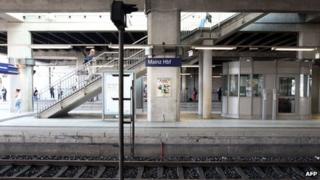 The agency that runs Germany's rail network has threatened national train operator Deutsche Bahn (DB) with a big fine because of travel chaos at Mainz, a major hub on the Rhine.
For weeks Mainz station near Frankfurt has drastically reduced services because of a shortage of signal staff.
Managers are trying to recruit ex-workers as vital staff are on holiday.
DB faces a 250,000 euro fine (£214,000) if it fails to restore normal service immediately, the rail agency said.
Long-distance trains have been rerouted to avoid Mainz, a city at the intersection of major north-south and east-west routes. The city is the capital of Germany's Rhineland-Palatinate state.
Many local trains to and from Mainz have been cut from the timetable, disrupting life for thousands of commuters.
DB has promised to get Mainz rail services back to normal before the end of this month.