Republic of Ireland babies at risk of wrong blood group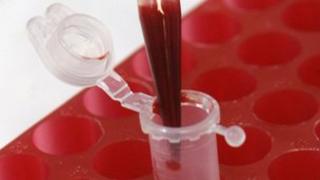 Hundreds of new mothers in the Republic of Ireland have been told there may be a small chance their baby was incorrectly blood grouped at birth.
The mistake is believed to be due to a mislabelling of a blood test kit for newborns.
Around 540 patients - mothers and babies - have been notified.
The Republic's Health Service Executive (HSE) said there are no immediate safety concerns and the risk of a blood group being incorrect is extremely low.
The five maternity hospitals affected are the Rotunda Hospital in Dublin, Cavan General, Sligo General, Limerick and Galway.
Most of the cases are at the Rotunda, one of the biggest hospitals in the country.
The hospitals began contacting affected mothers on Monday and letters have been sent to anyone potentially affected by the manufacturing error.
GPs are also being notified.
The HSE said it was recently notified by Ortho Clinical Diagnostics, a Johnson & Johnson company, that a small number of the ORTHO BioVue System Cassette testing kits supplied worldwide had been incorrectly labelled.
The manufacturer estimates that the potential risk of a kit being labelled incorrectly is less than one in 11 million.
According to the HSE all hospitals have completed an inspection of their remaining kits and have removed any potentially affected batches.
All patients, including babies, have a repeat blood group test when being admitted to any hospital or in pregnancy.