France's Marion Bartoli announces retirement from tennis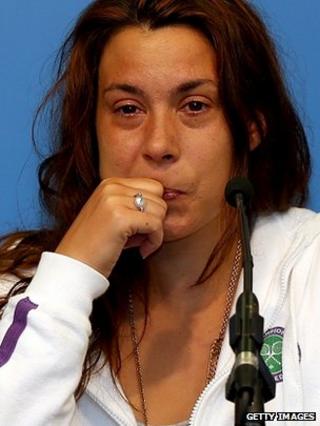 France's top female tennis player and the current Wimbledon women's champion, Marion Bartoli, has said she is retiring from professional tennis.
Bartoli, 28, ranked seventh in the world, shocked journalists at a tournament in Cincinnati, Ohio, by tearfully announcing she was quitting.
Beset by injuries, she said her hips, Achilles tendon, shoulder and lower back hurt continuously when she played.
She had earlier been knocked out of the competition by Romania's Simona Halep.
"My body was really starting to fall apart and I was able to keep it together, go through the pain - with a lot of pain - throughout this Wimbledon and make it happen," she said at the Western & Southern Open.
"I have pain everywhere after 45 minutes or an hour of play. I've been doing this for so long. Body-wise, I can't do it any more."
Bartoli won her first Grand Slam title by beating Germany's Sabine Lisicki in the Wimbledon final.
She was the runner-up at Wimbledon in 2007.
"You know, everyone will remember my Wimbledon title. No-one will remember the last match I played here," she said.
"It's been a tough decision to take. I don't take this easily."