20,000 euros found beside burning car in Dublin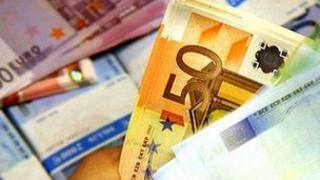 The discovery of 20,000 euros lying beside a burning car in Dublin has prompted speculation that the vehicle may have been used as a getaway car in a robbery.
Firefighters got a report of a car on fire in the vicinity of Hollystown Golf Club just before 15:30 BST on Tuesday.
A crew began to battle the flames but found 50 euro notes scattered around the car and in a nearby hedge.
There have been suggestions that the money may have been stolen minutes earlier in an armed robbery at an ATM machine in west Dublin but the thieves lost some of it in their haste to get away.
Threatened
Gardaí (Irish police) said three men were involved in an armed raid which took place as security men were making a cash deposit to an ATM cash machine.
One man remained in the getaway car while the other two men threatened the security officers with a handgun. They escaped with cash.
Gardai said no shots were fired and no-one was was injured during the robbery.
However, police could not confirm if there was a link between the robbery and the vehicle but pointed out that they made their getaway in a blue Hyundai car.
A spokesman added: "The car was later found burnt out in Hollystown and the matter is under investigation."