Wood Cranesbill to make comeback in Northern Ireland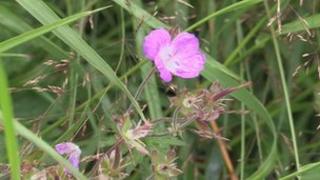 Attempts are being made to secure the future of one of Northern Ireland's rarest wild plants.
On the island of Ireland Wood Cranesbill, or Geranium sylvaticum, is only found in one small area of County Antrim.
It was thought extinct in Ireland until it was rediscovered near Glenarm in the 1990s.
The plant thrives in the margins of woodland and in some meadows but it has been under threat partly because of farming practises.
Wood cranesbill looks similar to some cultivated garden geraniums but it is a wild plant and is very unlikely to be found in gardens.
A nature reserve managed by Ulster Wildlife in Feystown is designated an area of special scientific interest because of the presence of this rare wild geranium.
Willy McNamara from Ulster Wildlife is involved in managing the reserve.
"What I suppose it demonstrates on this site is the biodiversity in this area, that if the land is managed sensitively and managed properly that a plant like this can continue to survive and support that whole food chain and web that these plants do," he said.
Ulster Wildlife is now working to increase the number of plants found in the Glens of Antrim.
It has cultivated the Wood Cranesbill and is planting it in other parts of the Glens.
Mr McNamara said they are hopeful the plant will quickly establish itself and spread.
"The Northern Ireland Environment Agency have given us permission and we have identified a suitable translocation site and the reason to move the plant is to extend its range," he added.