Man guilty of murdering rugby player Shane Geoghegan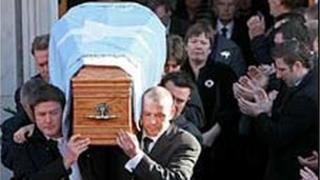 A 29-year-old man has been found guilty of murdering Limerick rugby player Shane Geoghegan.
John Dundon of Hyde Road in Limerick was sentenced to life in prison for the attack in the city in 2008.
Mr Geoghegan was shot five times in a case of mistaken identity.
Dundon's lawyer said he deeply regretted Mr Geoghegan's murder but played no part in it. The court found the evidence against Dundon to be overwhelming.
The three judges at the Special Criminal Court in Dublin, presided over by president of the High Court Mr Justice Nicholas Kearns, delivered the verdict on Tuesday.
The court said the evidence given by the three prosecution witnesses was credible, truthful and reliable.
Mistaken identity
The judges accepted the evidence that while Dundon did not fire the shots that killed Mr Geoghegan, he ordered Barry Doyle to shoot another man, John McNamara.
Doyle was found guilty of Mr Geoghegan's murder in February 2012. The court heard he admitted shooting the rugby player in a case of mistaken identity.
The court heard the intended target of the shooting, Mr McNamara, lived four doors down from Mr Geoghegan in the same estate.
During Dundon's trial, the former partner of his brother, April Collins, testified that she was at a meeting in John Dundon's house when he ordered Doyle to kill Mr McNamara.
April Collins' sister Lisa and the accused's cousin, Christopher McCarthy, testified that on John Dundon's instructions they stole a car they subsequently discovered had been used in the murder of Mr Geoghegan.