New Czech PM Jiri Rusnok resigns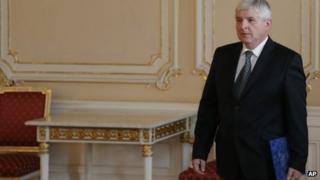 The Czech government led by PM Jiri Rusnok has handed in its resignation, after failing to win the confidence of parliament.
The move paves the way for an early election, likely to be held by October.
The cabinet of technocrats was formed by President Milos Zeman last month, despite opposition from the main parties, who accused him of trying to increase his own power.
Mr Zeman accepted the resignation but said Mr Rusnok would stay on for now.
The government will act in a caretaker capacity until a new one can be formed.
The previous prime minister, Petr Necas, resigned in June after a senior aide was charged with bribery and abuse of power.
Two former MPs, an ex-minister and the current and former heads of military intelligence were also detained in the largest anti-corruption investigation in the country since the fall of communism.
Under the constitution, the president has a second chance to appoint a prime minister. He could also decline to name a replacement for Mr Rusnok before the next elections, scheduled for early 2014.
However, parliament has the power to dissolve itself, which would force early elections.
That is expected to happen next week.