Stolen wheelchair of amputee swimmer Croizon recovered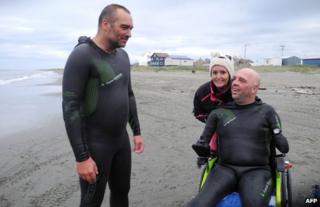 A stolen custom-made wheelchair belonging to French amputee swimmer Philippe Croizon has been found after he made an emotional appeal.
Croizon, 45, said on Monday a trailer containing his wheelchair had been stolen during a holiday near Dieppe.
Hours later, a man who saw a TV report about the theft phoned to say he had found the wheelchair in a car park.
"It's a lovely summer story, which should encourage and inspire all disabled people," Croizon said.
The athlete, who lost all his limbs in an electrical accident in 1994, became the first quadruple amputee to swim across the English Channel in 2010 and completed a swim linking five continents in August 2012.
His all-terrain, specially designed wheelchair was stolen on Thursday night at Martin-Eglise, near the northern port of Dieppe.
On Monday he told French media he was "nothing" without his chair. "They haven't just stolen my wheelchair, they've stolen my independence," he said.
After seeing his appeal on TV, the driver of a disabled bus recognised the chair as one he had found intact, abandoned in a car park on Friday morning, Croizon told AFP news agency.
The driver phoned to say the wheelchair was in safekeeping, the athlete said.
It was not clear whether the stolen trailer had also been recovered.