Theresa Villiers says parades ban call 'not viable'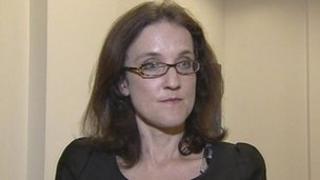 Northern Ireland Secretary Theresa Villiers has said the idea of calling a halt to all contentious parades for six months is not viable.
The secretary of state was responding to the suggestion by the chairman of the Police Federation, Terry Spence.
Mr Spence said marches should be stopped to allow breathing space for the Richard Haass talks process.
After meeting with Ms Villiers on Tuesday, Orange Order leaders said a ban would be "counter-productive".
The Orange Order grand secretary Drew Nelson said the organisation condemned all violence, describing it as "morally wrong".
He said a ban or moratorium on parades would create more problems than it solved.
Mr Nelson said there was an "untold story about the police failing to protect some parades".
Orange Order grand master Edward Stevenson said both rural and urban members of the order condemned the Parades Commission's rulings on recent marches.
The Order said it would fully support the talks being chaired by Mr Haass, that are due to start in the autumn.
Earlier, Ms Villiers said she understood why Mr Spence had made the call but did not think there should be a lengthy ban.
The Police Federation chairman made the call after 56 officers were injured in serious rioting in Belfast on Friday evening.
The police came under attack during a loyalist protest against a republican parade in Belfast city centre.
Ms Villiers said: "I have huge sympathy for the police officers who've been injured, so I can completely understand Terry's request.
"It's not really viable, I think, to start banning parades over a lengthy period.
"I think though everyone who is involved in parading needs to reflect carefully on how their actions will impact on other parts of the community," the secretary of state added.
Mr Spence's call for a a six-month parades' moratorium has been supported by SDLP leader Alasdair McDonnell but the DUP, TUV, and Parades Commission chair Peter Osborne have all rejected the call.