Footballer Anthony Stokes questioned over 'Elvis' assault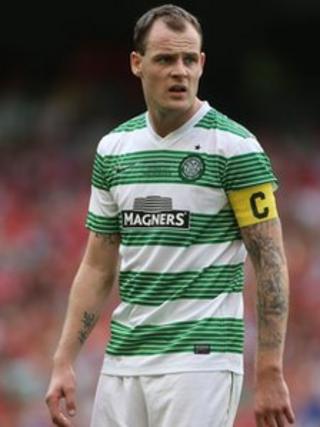 Celtic striker and Republic of Ireland international Anthony Stokes has been questioned by police about an alleged assault on an Elvis impersonator.
Mr Stokes, 25, was arrested in his home city of Dublin on Monday morning and taken to Irishtown garda station.
It is believed an Elvis impersonator was treated for a suspected broken nose and chipped teeth after an alleged assault at a Dublin nightclub in June.
Mr Stokes was released without charge and a file is being sent to the DPP.
The footballer was back home in Dublin over the weekend, for a friendly between Celtic and Liverpool, when he was arrested by detectives investigating the assault claim.
The impersonator, a 42-year-old man, sustained his injuries at Buck Whaley's nightclub on 8 June, just hours after a match between the Republic of Ireland and the Faroe Islands.
Mr Stokes signed for Celtic three years ago and has played for the club 83 times.