Amputee swimmer Philippe Croizon has wheelchair stolen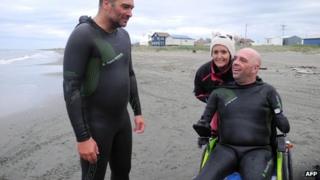 A French athlete, who became the first quadruple amputee to swim across the English Channel, has made a public appeal after thieves stole his custom-made wheelchair.
Philippe Croizon, 45, was on holiday with friends near Dieppe in northern France when the device was taken.
"They haven't just stolen my wheelchair, they've stolen my independence," he told French media.
Mr Croizon lost his limbs in an electrical accident in 1994.
He was struck by a charge of 20,000 volts while adjusting a TV aerial on a roof.
Since then he has completed a number of high profile swimming challenges using tailor-made flippers - including swimming the Channel in 2010 and completing a swim linking five continents in August 2012.
He said he was "sad and angry" at the theft of the all-terrain, specially designed wheelchair, which was taken along with the trailer it was being stored in overnight on Thursday.
"I don't know if these people realise what they did," he said. "Without it, I am nothing."
He said the wheelchair had been part-financed by friends and would be very expensive to replace, although it is not clear exactly how much the chair was worth.
He urged the thieves to return it.
"Give me back my wheelchair, give me back my independence," he said.