Russia's Alexei Navalny faces 'foreign cash' inquiry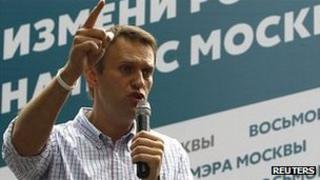 Russian prosecutors are investigating the campaign funding of opposition leader Alexei Navalny after Kremlin supporters alleged that he was getting illegal donations from foreigners.
Mr Navalny, who is appealing against a jail sentence, hopes to be elected Moscow mayor in September.
He denied the funding claims, stressing that donations to his campaign were all checked by the authorities.
He is a fierce critic of President Vladimir Putin.
The general prosecutor's office said it had found evidence of foreign donations for Mr Navalny's election campaign, which it had passed on to the interior ministry, so that a criminal case could be opened. Russian law bans foreigners from funding Russian election campaigns.
Suspicions about his funding were raised by nationalist leader Vladimir Zhirinovsky - whose Liberal Democratic Party generally backs Kremlin policies in parliament - and by the pro-Putin United Russia party.
It is alleged that Mr Navalny received donations from internet addresses in 46 countries, including the US, the UK, Finland, Switzerland and Canada.
The internet giant Yandex, which handles the contributions, said that Russian citizens could make perfectly legal payments while on holiday overseas.
'All payments checked'
On his LiveJournal blog on Monday Mr Navalny said "all payments come into a Sberbank bank account. All payments are checked by the Moscow City Electoral Commission.
"If they tell us that the payment is illegal, that the name, date of birth or citizenship is not stated - we return the money. That's it."
Last month Mr Navalny, 37, was convicted and given a five-year jail term for embezzlement, though he was freed from custody pending an appeal.
The trial and jail term have been criticised by the US, EU and human rights groups as politically motivated.
Mr Navalny is standing for election against the incumbent Moscow mayor and Putin supporter Sergei Sobyanin, who is widely expected to win.
In an interview on Ekho Moskvy radio on Monday Mr Navalny said Mayor Sobyanin "has a major temptation to disqualify me, because he is scared of a run-off" in the Moscow election.
Mr Navalny rose to prominence before parliamentary elections in 2011, writing a blog in which he condemned United Russia as a party of "crooks and thieves". After the elections - won by United Russia amid widespread reports of electoral fraud - Mr Navalny addressed thousands of supporters in anti-Kremlin street protests.